Laigter
Hi Everybody!
Today i'm showing you the Texture Brush that is goign to be released this weekend. But first, let me remind you that making an open source tool requires a great effort, so consider supporting me one of this ways if you like my work!
The Texture Brush

This new plugin will allow you to directly search and download textures from cc0textures, and use them to paint your sprites. When downloading, Laigter will search for the corresponding maps, and enable/disable the controls in the brush that configures those maps. Then you just need to click the brush button and paint!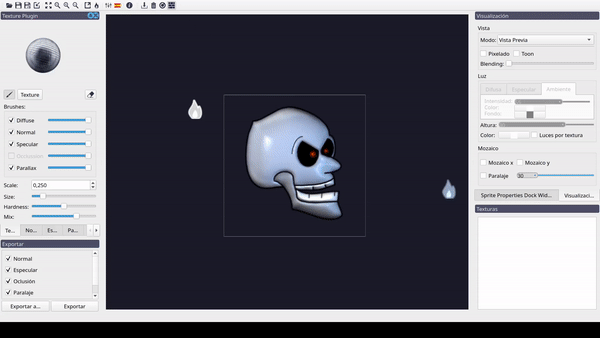 You can see in the brush GUI some controls:
Brush Button: Press it to start painting.
Texture Button: Press it to open the texture selector widget. You may have to wait a bit until the texture's preview are visible.
Eraser Button: Press it to select the eraser.
Maps checkboxes and sliders (Diffuse, Normal, specular, Occlusion, Parallax): The checkbox indicates if you want to paint that map or not. The sliders indicates how much of the selected texture map you want to blend into your generated maps.
Scale spinbox: Textures are all 2k resolution. You can scale it down to better fit your sprite, or scale it up to twice the original size.
Size Slider: Size of the brush
Hardness slider: hardness of the brush. If you are familiar with digital painting tools, this should be self-explanatory. If not, just play a bit with this setting.
Mix: How much the overall texture is blended into the sprite.
Another example: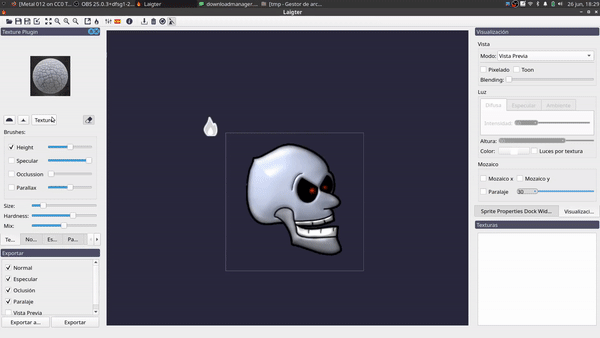 Thats all! I hope you like it!